Alamo Heights Lacrosse is excited to announce our inaugural season of High School Girls Lacrosse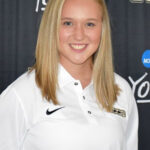 Cecilia Patten
University of Colorado, Colorado Springs Women's Lacrosse Defender
Played for Beaverton Girls Lacrosse (Ore.) throughout her high school career, where she was named captain in her junior and senior years. Recruited to play D2 lacrosse at the University of Colorado at Colorado Springs, Cecilia was a part of the program's inaugural year, where she dominated on the field as a defender. While attending UCCS, Cecilia was selected for LeaderU, an elite Leadership Training program. In addition to this leadership development opportunity, Cecilia was chosen to lead many unique non-profit organization partnerships that focus on youth advocacy and leadership development. During her final years at UCCS, Cecilia took on a leadership role in managing the program's marketing and player development. 
Cecilia graduated with a degree in Sport Management and has spent the past few years building leaders and legacies through community- storytelling, particularly in youth sports, which has driven her professional focus.
Now, Cecilia works for the San Antonio Spurs and is looking forward to giving back to her passion for lacrosse and youth character and leadership development.
I am confident in my ability to lead Alamo Height Girls Lacrosse with enthusiasm, positivity, and confidence. Please let me know if you have any questions. 
Best, 
Cecilia Patten
---
Game schedule
Info coming soon
---
Practice time & Location
Info coming soon